Book our aeration services below:
Aeration is a key element to having that beautiful green lawn next year.
In NH aeration is best performed in the fall, before the snow flies. Aeration is the process "opening up" your lawn so it can receive nutrients, air, and water. Without aeration, your soil will often be compacted especially if the yard is being used heavily. If this happens, your grass will never be able to absorb the key nutrients required to stay healthy, which is one of the reasons many of our NH lawn care customers are frustrated when they initially come to us.
Here's pretty much everything you need to know about aeration, in one diagram: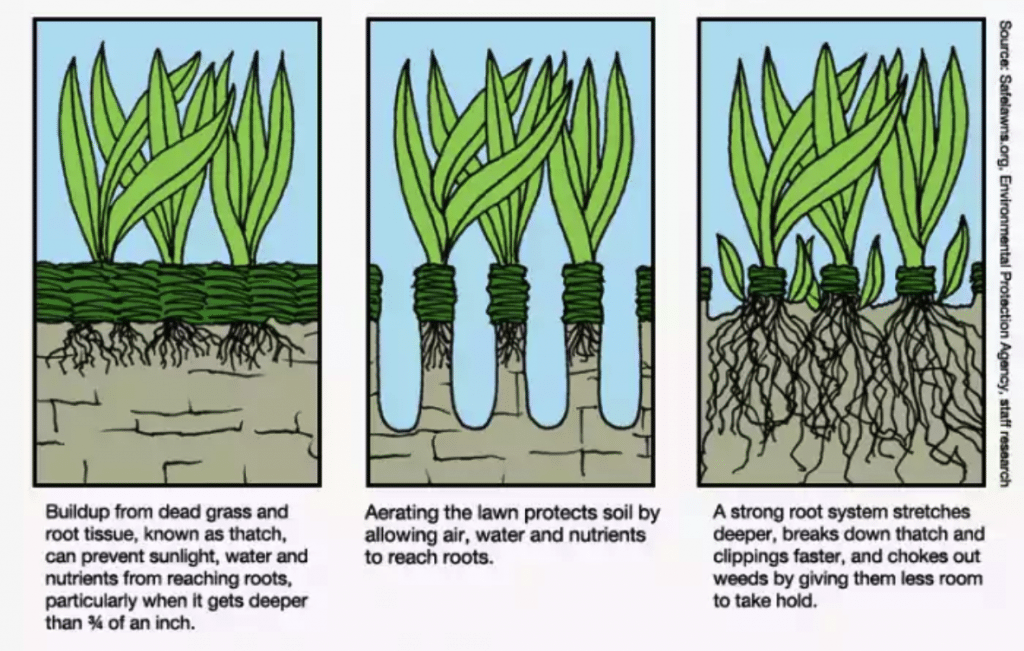 Five reasons to have a professional perform your aeration service in Manchester NH
These machines are big and clunky
You can certainly rent an aerator from your local hardware store, but who wants to mess around with that?
Here's an example of what an aerator looks like:
Aerators are expensive to rent
You'll spend $60-$100 per day renting an aerator.
Aerators are impractical to purchase
Aerators can be priced from a couple hundred dollars for one of the "small, tow-behind" variety all the way up to multiple thousands for a "walk-behind." Since you'll likely only need it once per year, purchasing an aerator of your own probably doesn't make sense.
You'll typically only need to perform aeration in NH once per year
This means it's probably not worth the money to buy an aerator yourself.
You don't want to spend all day out there, do you?
The whole reason to use an aeration service is that your time is valuable. Don't spend your time aerating your lawn, let us handle that. Spend your time doing the things you love.
Aeration in Derry NH, Goffstown NH, and Hooksett NH are also available.
Here is a lawn that was recently aerated in Derry NH