Book lawn care service in Londonderry NH today!
Weekly Lawn Care Services in Londonderry NH
Throughout the growing season, we can bet your schedule gets busier and busier. The weather gets nicer, and most folks are outside enjoying their time. In order to keep your lawn growing and thriving, maintenance needs to occur. Getting into the habit of maintaining your own lawn can be tough, but that is why we are here. Our team is ready to get your lawn into great shape and looking great too. We work hard to make your home or business look great. Get in touch with us today!
Residential and Commercial Lawn Care in Londonderry NH
Our client's needs vary, from large projects to small tasks. Regardless if you are a residential customer or a large commercial client, you will receive the same great customer service with professional results. We aim to meet and exceed your expectations and we deliver on our promises. Our lawn care services have satisfied clients for years, and we hope you will feel the same. Our technicians are professional and friendly. They are ready to tackle your lawn care project and ensure you receive exceptional service throughout. Give us a call today.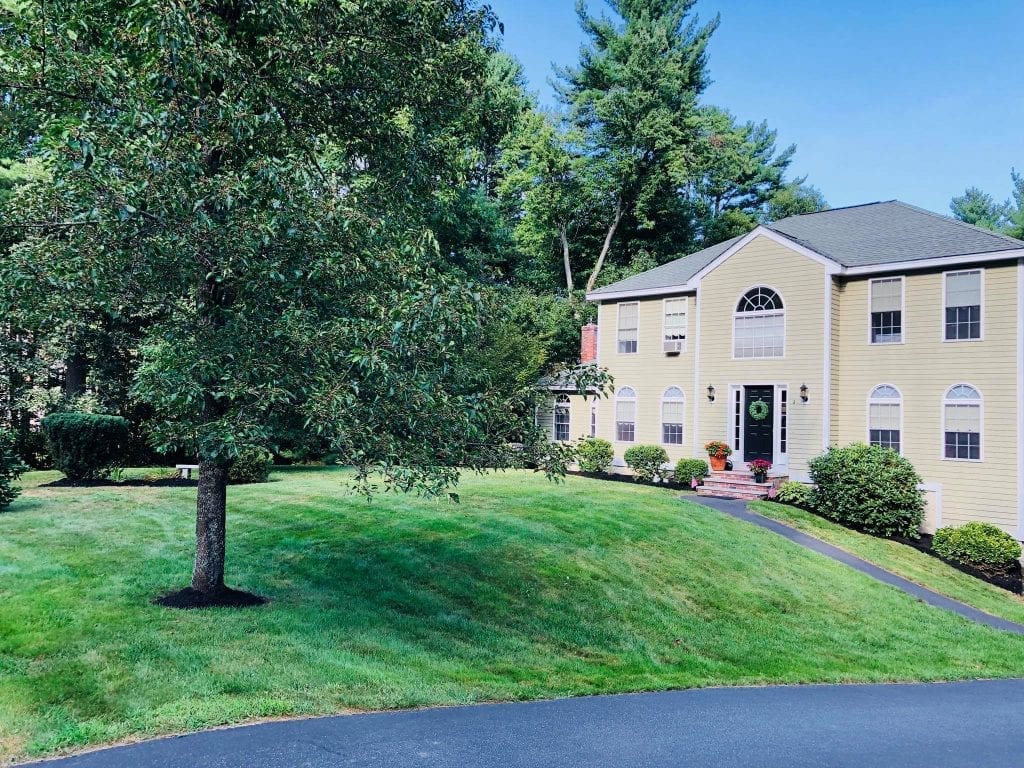 Aeration and Overseeding | Landscaping Services in Londonderry NH
Your grass needs to eat, just like we do! Simply mowing your lawn may not be enough when your grass starts to look thin, narrow, and patchy. We have a great solution for your yard. Aerating your lawn means you are allowing nutrients and water to enter the soil and get to grass roots. After an aeration service we will also overseed your lawn. This means those patchy spots will begin to disappear and grass will once again take it's place. Strengthening the root system of your lawn and letting your turf feed is vital to a well performing property. Give us a call today!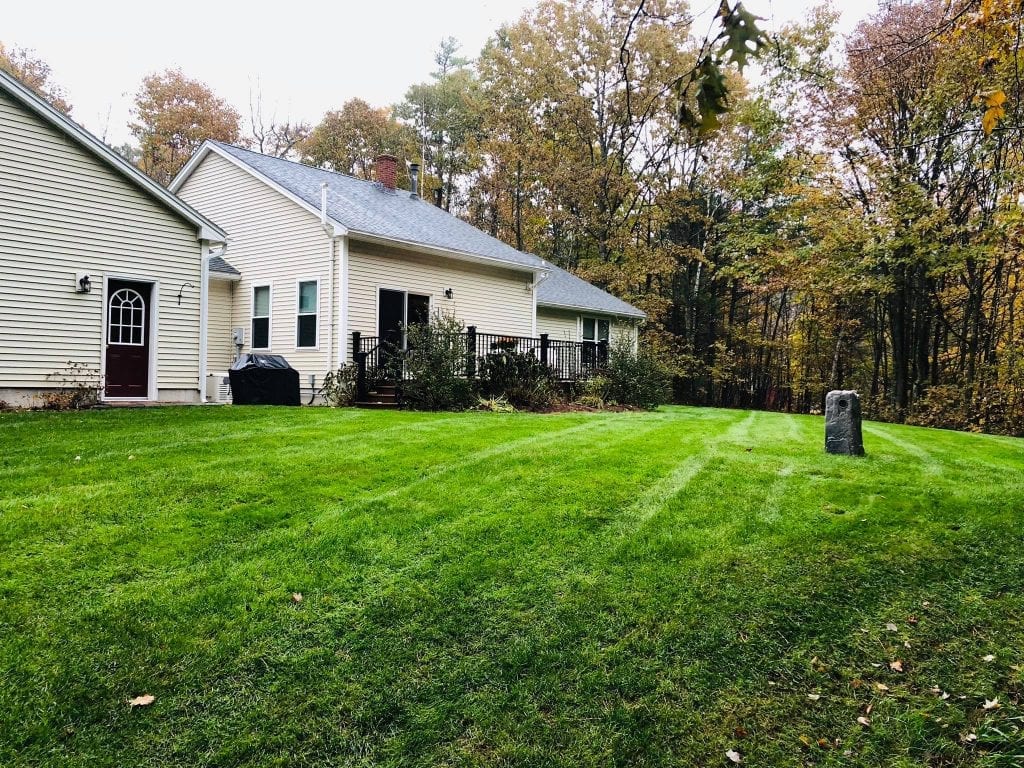 Londonderry NH Fall Clean Ups and Spring Clean Ups
The fall and spring time are great times to revisit the health of your lawn and to prepare for the months ahead. Fall clean up services typically occur in the autumn months and prepare your lawn for the winter. This means picking up all of that debris that has been blown around by the wind. Leaving leaves on your property to sit under snow and ice can cause the leaves to mulch. Your grass will be impacted and mulched leaves invite unwanted pests into your lawn.
The spring time is great to clean up after the winter months. If you've already prepared in the fall, it can be much easier to clean up after the winter. However, if you havent, no worries, we will carry the mulched leaves away and help your lawn get back to beautiful! We trim perennials, re-edge beds, install mulch, and a lot more. Give us a call today for a great looking lawn.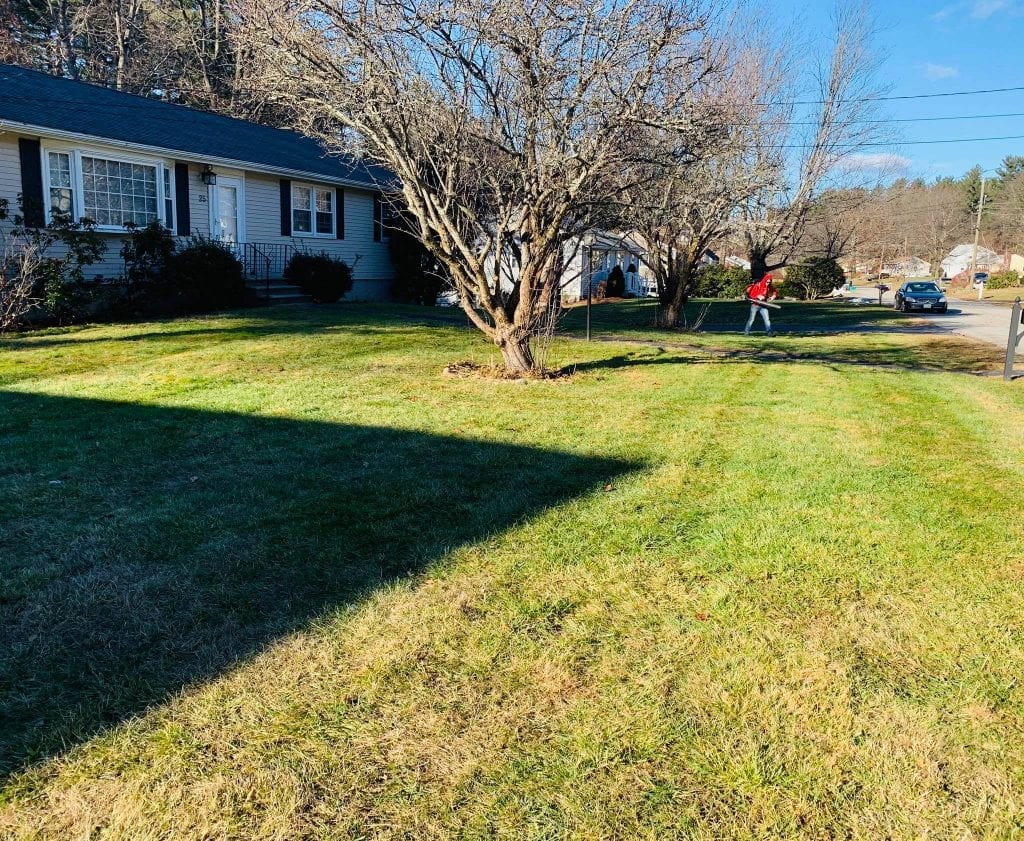 Gardening Services in Londonderry NH
Creating a garden is a great way to breathe life into your property. Home and business owners alike can benefit from adding personality to their property with the addition of a garden. We've all dreamed of adding a creative element to our lawns, but probably haven't had the time to get the plan in motion. We provide aid to designing and building a garden. After the work is done, we also provide garden maintenance as well. Our gardening service is tailored to your gardens needs. We trim hedges, plan out your garden, perform maintenance like watering, and we install mulch. Give us a call today to learn more!